1.  Hair Bows for Megan – we only have a couple for her right now.  She has hair, but not "good for bows hair" – not yet anyways.  I'm so NOT an accessory person – I love them, but just don't know how to do them & pull them off.  My sister is the queen, so I'm hoping to make her proud with Ms. Megan.  
2.  Easter Dress for Megan – so many possibilities.  But I'm pretty laid back so I think more casual than fussy-dressy.  I just bought this one at Old Navy this weekend – with help from the aforementioned sister.  Not necessarily for Easter, but who knows it may end up being so.  It was $14.50 – on sale for $10 – but only $7 after my 30% off coupon!!  The funniest thing to me … it has slip pockets.  Slip pockets.  As in not for decoration, but to actually use – that cracks me up!!!
3.  Hats for Megan – I actually have one of these on order in a nice Springy look, but I also need to find some cute sun hats.
4.  Couch for the family room – Unfortuately this will end up far down on the list, but I can dream – can't I?  At this moment (and any moment that company walks through the door) a throw is covering our once nice Leather Loveseat because it has a H.U.G.E slash down the back of the seat.   Just wear & tear – that happened WAY too quickly.  I would love a nice small-size sectional.  This one's too big for the room, but I like the lines.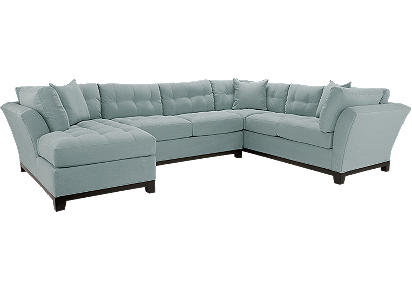 5.  Dining Table for the kitchen.  We moved into our house 6 years ago.  I thought our current kitchen table would only be with us for a couple of months, maybe a year at most.  It was a hand-me-down from my grandparents!  Old enough to be antique, but not cute enough to be vintage!  So 6 years later, we're still eating on it every night.   I definitely want it to extend to six or eight.  I want it in black – or a dark wood, preferrably round – maybe rectangle.  Oh it will take me forever to decide.  But I definitely don't want a glass top or cloth seats.  I just want one that looks like something I might buy, but I'm torn on what that is right now. 
6.  Mechanical Bull for Evan – He would absolutely LOVE to come home to one of these.
7.  New Bedding for the Master Bedroom – but I can't find a picture of anything I really want!!  I want simple.  I want spring-like.  Maybe that's my mission to find good bedding this week.  Any suggestions??
8. A New Laptop for me – I always had one for work that I used for everything and I miss my little laptop:(.
9.  Lots & Lots of this … Oh how I love Easter Chocolate – ok fine, any chocolate!  It just doesn't seeem wrong to eat Chocolate around Easter!  You can order these personalized from Hershey's or attempt to make them yourself! 
10.  And these in honor of my Sisterchicks …
For more Top Ten Tuesdays or to link to one of your own … go here.
7 Comments